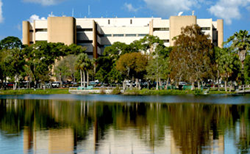 BAY PINES, FL (PRWEB) October 17, 2014
The Bay Pines VA Healthcare System (VAHCS) is teaming up with the James A. Haley Veterans Hospital of Tampato to host a job fair at the C.W. Bill Young VA Medical Centeron on Saturday, Oct. 25 from 10:00 a.m. 2:00 p.m. The event will take place in the JC Cobb room (building 100) located on the first floor of the medical center. Parking will be available in the parking facility located adjacent to the medical center building.
The fair is open to all professionals seeking employment in the following occupations. Veterans, disabled Veterans and applicants with documented disabilities are encouraged to attend.
Nursing (Registered Nurses all specialties)

Nursing (Certified Nursing Assistants)

Health Administration Service (Medical Support Assistants)

Environmental Management (Housekeeping Aids)

Food Service Workers
Interested applicants should bring a valid form of government-issued identification, a completed resume, military discharge papers (DD-214), application for 10-Point Veterans Preference (Standard Form 15), VA service connected disability letter and Schedule A Letter. Licensed health care professionals are also asked to bring a completed Application for Associated Health Occupations (VA Form 10-2850c).
Our organization has a very special and inspiring mission to honor Americas Veterans by providing exceptional health care that improves their health and well-being, said Suzanne M. Klinker, Director, Bay Pines VAHCS. We have been able to fulfill this mission because of our dedicated workforce and our ability to find the best and brightest professionals to join our team. The men and women we serve deserve nothing less.
The Bay Pines VAHCS and James A. Haley Veterans Hospital are Equal Opportunity Employers. For questions and more information about the Job Fair, please call 727-398-6661 extension 15663.
About the Bay Pines VA Healthcare System
The Bay Pines VAHCS is one of the nations leading VA healthcare systems, employing more than 3,800 medical professionals and support staff dedicated to providing the very best care to Veterans residing in southwest Florida. The organization is the fourth busiest VA health care system in the country in terms of patients served and is accredited by The Joint Commission, Commission on Accreditation of Rehabilitation Facilities, and several other nationally recognized accrediting organizations. The Bay Pines VAHCS operates nine facilities to include the main medical center located in Bay Pines and outpatient clinics located in Bradenton, Cape Coral, Naples, Palm Harbor, Port Charlotte, Sarasota, St. Petersburg, and Sebring. To learn more, please visit http://www.baypines.va.gov or like us on Facebook at http://www.facebook.com/vabaypines.
Find More Men's Health Press Releases